News and Events
November 2017 - Congratulations to Richard from RG Construction who was the lucky winner of our customer survey drawing. Richard won two amazing tickets to the Minnesota Wild!



October 2017 - BATC Big Night, Prior Lake. Congratulations to all the 2017 award winners. A special "shout out" to John Kraemer & Sons for taking home Builder of the Year and MA Peterson Designbuild for winning a ROMA! Distinctive Drywall is proud to partner with these amazing builders. We were also thrilled to take home our first Trillium Award in partnership with MA Peterson Designbuild!




October 2017 - The Food Group, Minneapolis. The team enjoyed an afternoon of helping the fight against hunger at this wonderful local organization. Together we packed 84 boxes, 7 pallets, and 9,800 meals for this Thanksgiving season. In addition, the team collected over 400 pounds of food during a food drive prior to the event that was donated to The Food Group!




August 2017 - BATC Golf Open, Ham Lake. The team enjoyed the 2017 golf event at Majestic Oaks with some of our customers. One of our foursomes even one the fun photo contest!



August 2017 - Global Leadership Summit, Minneapolis




June 2017 — Team Appreciation Event on Lake Minnetonka!

---
May 2017 — Team Charity Event at Feed My Starving Children. Our team helped pack 18,576 meals, which will feed 51 children for one year!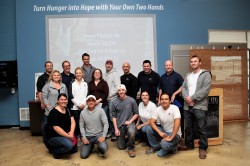 May 2017 — The DDI Team raised 231 items for the Stamp Out the Hunger food drive this year!

---

April 2017 — The DDI booth at the 2017 BRS was buzzing! We had fun with this year's theme "Fun in the Sun". Congrats to Nick from Boyer Building Corp for winning our drawing for the Yeti/Tommy Bahama Beach Package!

---
November 2016 — Happy Thanksgiving! We are so grateful to work with such an awesome team. The Distinctive Drywall team raised enough funds to provide 482 meals to help feed those in need at the Union Gospel Mission during our first ever Thanksgiving fundraiser. This is definitely something to be thankful for!

---
September 2016 — Distinctive Drywall announces purchase of Vantage Painting.
---
June 2016 — The Team assembled 25 boxes and 5,400 meals at Feed my Starving Children. The much needed food will be going to children in Haiti.

---
June 2016 — Annual Team Appreciation Event at the Minnesota Twins game!

---
May 2016 — The Team raised 97 items for the Stamp Out Hunger food drive, which all goes to support local food shelves.

---
April 2016 —We had a great showing at the Builders & Remodelers Show at the Minneapolis Convention Center. Al P. from Kootenia Homes was the lucky winner of the round of golf for 4 at The Wilds. Congratulations Al!

---
February 2016 — We were honored to partner with the BATC Foundation and Vujovich Design Build on a special project for Homeward Bound.

---
January 2016 — Awarded Best of Houzz for Customer Satisfaction

---
July 2015 — Professional Remodeler Magazine Names Joe Shimanski to its 40 Under 40 Class of 2015!


---
Giving Back
Gratitude is a core value at Distinctive Drywall, and supporting communities and organizations through giving is very important to us.
---
Organizations We Support
Second Harvest Heartland is the Upper Midwest's largest hunger relief organization. Their goal is to help the hungry now and also provide the means for everyone to be fed tomorrow. They are known for their efficient processes for distributing great amounts of food quickly. In 2012 alone, they collected, warehoused and distributed more than 76 million pounds of food. In addition, they are constantly pioneering ways to reduce waste and find better uses for the abundance of resources available to us.
---
In 1897, Gillette became the nation's first hospital for children who have disabilities. Since then, we've remained committed to changing the world through expert medical care, advocacy efforts and research. Today, we are known worldwide for expertise in treating children, teens and adults who have disabilities and complex medical conditions. Gillette is nationally and internationally recognized for excellence in many specialties and subspecialties. Our Centers of Excellence bring together top experts to focus on a common vision.
---
Since 1993, more than 100 million boys and girls in over 130 countries have experienced the power of simple shoebox gifts from Operation Christmas Child. Samaritan's Purse works with local churches and ministry partners to deliver these gifts around the world.
---
Feed My Starving Children is a non-profit organization committed to feeding hungry children. The approach is simple: children and adults hand-pack meals specifically formulated for malnourished children, and ship these meals to nearly 70 countries around the world.
---
The mission of Ronald McDonald House Charities (RMHC) is to create, find and support programs that directly improve the health and wellbeing of children. Helping a sick child fight their illness takes a big enough emotional toll on a family. Adding a financial strain can make it all almost too much to bear. RMHC can help address those problems, whether they involve housing that's near a hospitalized child, the expense of staying together in another city, or even getting basic medical and dental care in a vulnerable community. These programs can be found in more than 290 local Chapters in 58 countries and regions.
---