Drywall and Painting Services for Remodeling Contractors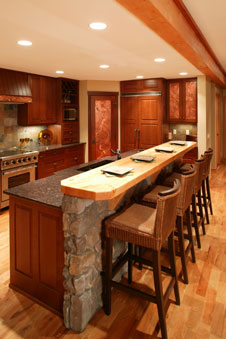 Distinctive Drywall is a residential remodeling expert, offering complete services for remodeling contractors. Our experienced team of drywall professionals offers contractors the highest quality, most reliable drywall finishing services for remodeling and renovation projects of all sizes. We strive to consistently exceed customer expectations on every project with on-time proposals, reliable scheduling, exceptional quality, superior customer service, and remarkable cleanliness.
Distinctive Drywall understands that remodeling is entirely different from new residential or commercial building. Selecting the right drywall company is critical to the success of your project, especially when customers are living in their homes during the remodeling process.
At Distinctive Drywall, the prep work, dust containment, and clean-up are just as important as the completed drywall project. Many drywall companies can get the work done, but few get it done in a way that doesn't leave customers frustrated with the mess they leave behind. We have a proven process that will exceed your expectations, your customers' expectations, and help to ensure your project's success.
We understand the importance of standing behind the promises we make and know that we are a reflection of your business. Distinctive Drywall's goal is to create a long-lasting relationship by being a valued trade partner that helps your business succeed.
---
Our Guarantee
Have confidence in your decision in selecting Distinctive Drywall. We stand behind our promise to deliver the most enjoyable customer experience with guarantees that are among the best in the industry. Here is what the Distinctive Drywall guarantee means for you:
Proposals: You will receive reliable proposals on time.
Scheduling: We honor our commitments so that you can build your schedule with confidence.
Cleanliness: You can be assured of a clean and neat work environment, and no more customer complaints about the messy drywall phase of the project.
Quality: You will receive a beautifully finished, long lasting product.
Customer Service: We want to be viewed as an extended part of your team. You can count on us to be there when you need us.
For more details, please read the Distinctive Drywall guarantee!
---
Our Services
| | | | | |
| --- | --- | --- | --- | --- |
| | | | | |
| | | | Water & Fire Damage Repair | |
---
Value Added Elements
| | | | | |
| --- | --- | --- | --- | --- |
| | | | | |
| | | | Level 5 High-Build Priming Systems | |