Our Team
I am very proud to introduce you to the amazing people that make up the Distinctive Drywall team. The team that we have built over the years take so much pride in what they do, truly care about our customers and others, and conduct themselves in a professional manner each and every day. I am often reminded by our customers of this with the numerous compliments I've received throughout the years and continue to get. I truly believe that we can accomplish far more together then individually and am very grateful to be able to work with each of them.
Joe Shimanski, Owner
Joe grew up with a father in the drywall and construction industry. He learned a lot from helping on his father's jobsites after school, weekends and during summer vacations. After six years of experience as a drywall finisher Joe founded the company in 2001. He has a passion for making things better, more efficient, and growing his business and relationships. Joe's other passions include boating, snowmobiling, traveling, and spending time with his family.
---
Stacey Shimanski, Business Development
Stacey has been helping her husband, Joe, behind the scenes for several years. She brings over 16 years of experience in the financial services industry and a Master's degree in Financial Services to Distinctive Drywall. Stacey enjoys working in the family business, and has a talent for marketing and building systems and processes. When not in the office, she also loves traveling, boating, and spending time with family.
---
Tyler Miller, Project Manager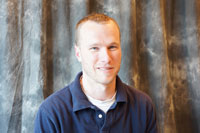 Tyler has been with Distinctive Drywall since the 2001. Tyler's strong work ethic and dedication to customer service has earned him the nickname "Super-T". Tyler does an amazing job keeping our customers happy by completing projects on time and adapting to their every need. In his free time, Tyler enjoys fishing, going to the family cabin, and spending time with friends. He is young at heart, but never fails to bring a professional and dedicated performance to every project.
---
Jeremy Fisher, Lead Installer
Jeremy has been part of the Distinctive Drywall team for over six years as our Lead Installer. His experience in hanging drywall goes back 12 years. Jeremy is a drywall installer by trade, but has a very well-rounded skill set and can be put on a variety of projects. He is also a very talented steel stud framer and has become our go-to-guy whenever we need something out of the ordinary completed. Jeremy has had the opportunity to go on three amazing and life changing mission trips to Haiti. Here in Minnesota, he likes to hunt, fish, camp and anything else outdoors he can find.
---
Dave Peterson, Sales/Estimator
Dave joined our team in January 2013 bringing with him 15 years of industry experience with estimating residential and commercial work. Dave is very knowledgeable in his field and can bid the most complex of plans. Dave's easy-going and likeable personality makes him a great fit with the team and our customers. When Dave isn't reviewing blueprints or making sales calls he enjoys spending time with his girls, going to the cabin, boating, golfing, cooking, and working on his house.
---
Jacob Thiel, Journeyman Finisher
Jake joined our team in May 2013 as Journeyman Finisher and brings with him more than 17 years of experience in the drywall industry, as well as an EPA certification. Jake is a strong leader and enjoys all aspects of the drywall phase. Jake likes to read, study the bible, following sports, and playing the guitar. Before joining the Distinctive Drywall team, Jake traveled around the country for over three years with a construction mission organization called Hard Hats for Christ. He assisted churches and faith-based organizations with their needs.
---
Melanie Porter, Office Manager
Melanie came on board in September 2013. Although she has a Bachelor's degree in psychology and a Master's in Marriage and Family therapy, she brings with her over 7 years of experience in the bookkeeping field, and over 13 years in the administrative field. Melanie is a whiz with QuickBooks and brings a high-level of professionalism to her job every day. Melanie does a great job supporting the team and our customers. In her spare time, Melanie enjoys spending time with her family, painting, drawing, scrapbooking and serving in the Care Ministry at church.
---
Heather Hubbard, Office Assistant
Heather joined our team in May, 2016. She has a unique background starting with a BA Degree in Anthropology from the U of M, but has been working in the office support field since 1998. Heather brings a positive attitude, professionalism, creativity, and a desire to help others to the office every day. Her hobbies include running with her two dogs, motorcycling with her husband, watching her sons play baseball and her daughter play violin.